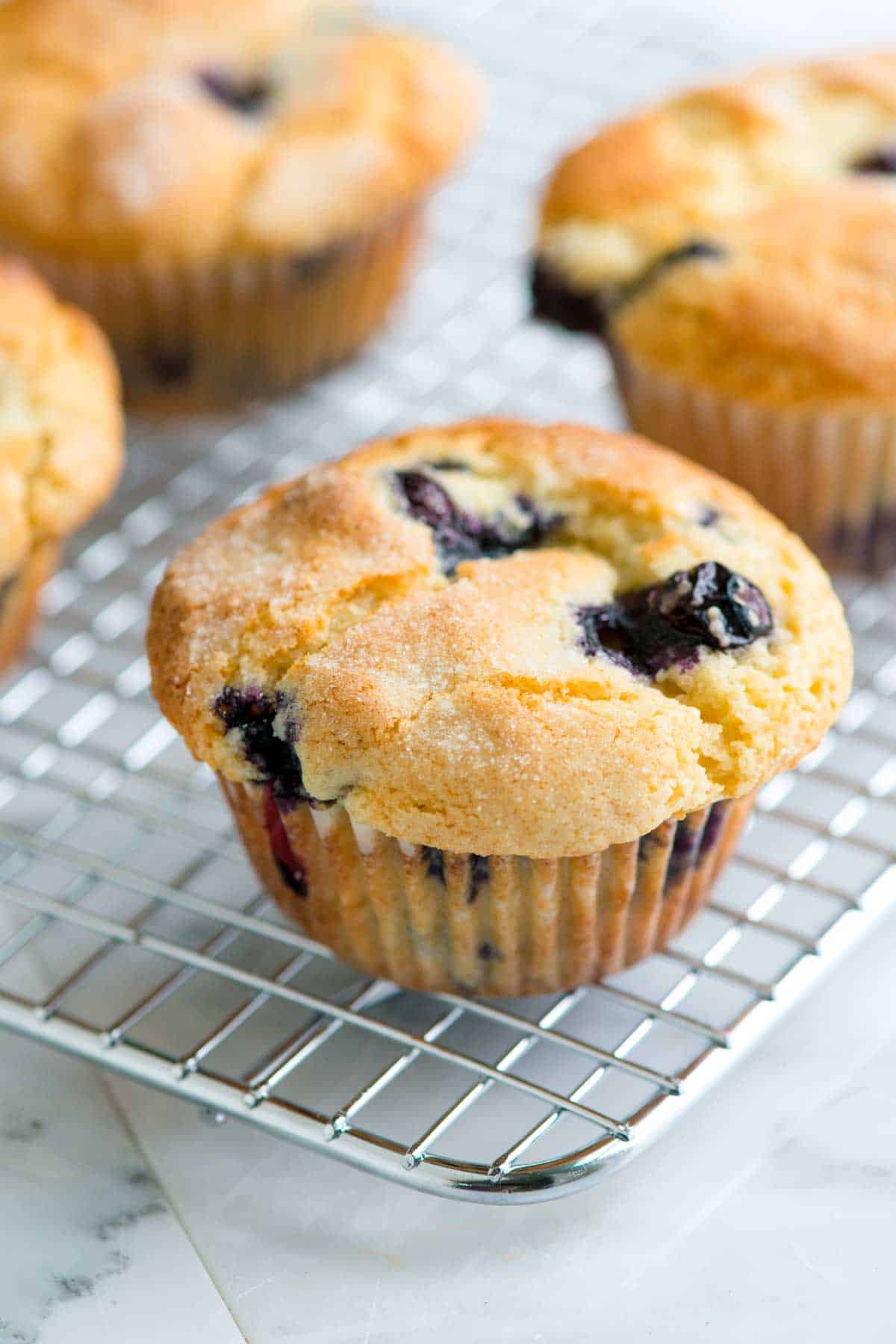 How To Make These Muffins
To make these muffins, you'll start by creaming together some unsalted butter and granulated sugar for 4-5 minutes or until light and fluffy. I always use unsalted butter since the amount of salt in salted butter can vary quite a bit between different brands. If you only have salted butter on hand, just reduce the salt to 1/4 teaspoon.
Once the butter and sugar are well combined, you'll mix in a couple of eggs and vanilla extract. For the rest of the wet ingredients, you'll be using some sour cream and milk. Since these muffins are made with butter instead of oil, the sour cream is crucial because it helps keep them moist. Any kind of milk will work fine, but I always prefer to use whole milk.
Then, you'll whisk together the dry ingredients: all-purpose flour, ground cinnamon, baking powder, and salt. These muffins are slightly dense, just like you would expect. Just make sure to spoon and level your flour into the measuring cup, so they don't turn out too dense. The cinnamon is completely optional here, but I personally love the flavor it adds! Once you've whisked together the dry ingredients and combined them with the wet ingredients, you'll fold in the blueberries.
Then, line a muffin pan with liners and evenly distribute the batter between all 12 muffin liners. When it comes to muffins, it's fine to fill them all the way to the top. You can also sprinkle them with some coarse sugar before putting them in the oven.
Here's the secret to getting super tall muffins.
Put the muffins in the oven at 425°F and bake them for 5 minutes. After 5 minutes, decrease the oven temperature to 375°F and let them bake for another 15-18 minutes.
Why the temperature change?
The initial high temperature helps the muffin tops rise up quickly so they're nice and tall and the lower temperature helps them finish baking without over-browning them.
Once the muffins are finished baking, let them cool for a couple of minutes and then remove them from the pan onto a wire rack to cool. You can top these with a simple glaze of powdered sugar and milk or you could even use a lemon glaze like the one on these scones.