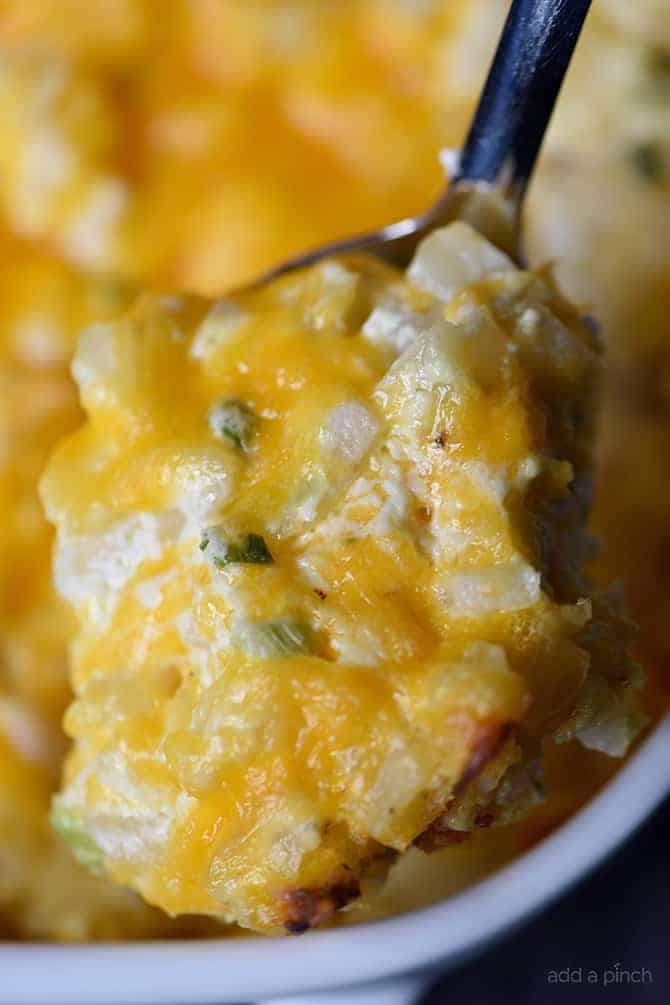 Cheesy Hashbrown Casserole is a classic holiday and potluck side that is cheesy, creamy, and easy to make! This casserole is filled with cheese, sour cream, hash brown potatoes and a tasty cornflake topping!
Hashbrown Casserole:
Hashbrown casserole is a side dish that has become a true favorite for any holiday or potluck gathering. It is a dish that is super popular in the midwest and something that most of us here grew up eating!
This casserole is great because it makes a huge 9×13 inch pan of cheesy potatoes. Big enough for anywhere from 10-20 people, depending on serving size. If your gathering will be more than 20 people, I'd recommend doubling the recipe.
We typically have this cheesy hashbrown casserole every single year for Easter. It goes great with ham, or whatever type of protein you decide to serve!
While we usually reserve this dish for special gatherings, it can also be a great main dish as well! You can simply add in cubed ham, cooked ground beef, chicken, or turkey, to make it a complete meal.
How to Make Cheesy Hashbrown Casserole:
Cheesy Hashbrown Casserole is incredibly easy to make! It only takes about 5-10 minutes of simple prep time to mix together your ingredients.
One thing that I think is important for this recipe is the type of soups that you use. I always use one can of cream of chicken soup, plus one can of condensed cheddar cheese soup. That combination along with the sour cream makes a great creamy base for this potato casserole!
Seasonings are also important to me. I like to use a combination of salt, pepper, garlic powder, and onion powder. A little salt goes a long way in this dish because of all of the cheese.
Don't skip the melted butter! It adds extra flavor and richness to this potato dish.
Once you have your ingredients together it is easiest to mix up your soups, sour cream, butter, milk, and seasonings first. Next, stir in the cheese, then the frozen hashbrowns. Doing things in this order will make sure that your sauce is evenly distributed while baking.
Right before this goes in the oven, you can crush up about 2 cups of corn flakes and use a fork to mix them with them with your remaining melted butter. I simply use my hands or a fork to slightly break up the corn flakes. If you want finer pieces, you can run them through your food processor first.
Freezing Hashbrown Casserole:
If you would like to make this casserole ahead of time, here are a few tips!
This casserole can be mixed up entirely without the cornflake topping, covered, and refrigerated for up to 24 hours before serving.
If you would like to make this and freeze it there are a few things to keep in mind. Because hashbrown casserole contains sour cream, it will have the best texture if you bake as directed, then freeze. If you use this method, simply bake the casserole and allow it to cool completely. Then, wrap the dish in a good layer or two of heavy-duty aluminum foil. Freeze for up to 2 months.
If you do not want to bake the casserole before freezing, that is fine too. Keep in mind that the sour cream can separate when freezing, so the texture may be a little bit different. You can simply assemble the casserole as directed in the recipe. Cover in foil, and freeze for up to two months. When you are ready to bake, allow the casserole to thaw in the refrigerator completely. Then, bake as directed.